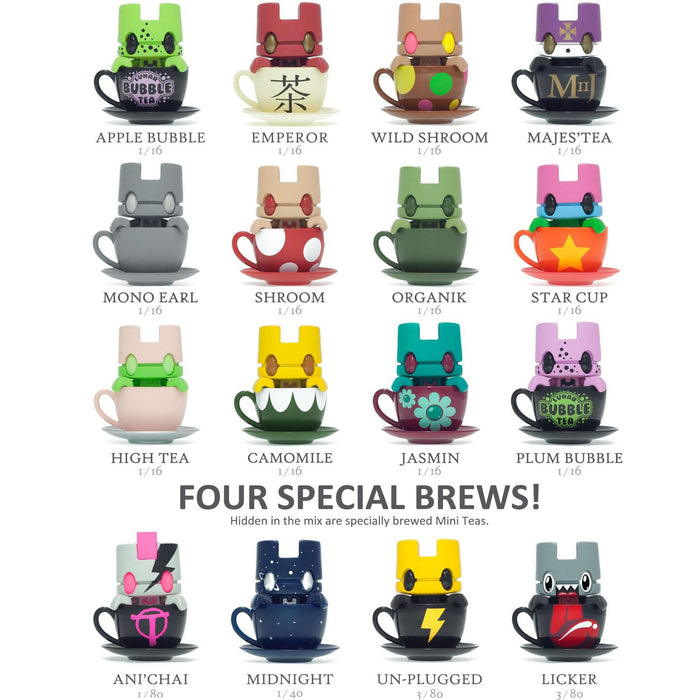 Lunartik In A Cup Of Tea Mini Series Two (1 Blind Box)
Sold out
Original price
$0.00
-
Original price
$0.00
Lunartik in a Cup of Tea Mini Series 2 comprises of 12 Fresh Flavours, 4 Special Brews & 1 Super Rare Cuppa for hardcore Tea Lovers.

There are 17 new Mini Teas to collect & love. Each figure stands 2.5" tall and is accompanied by: Tea Bag booklet, Collectors Card and the all important Tea Token! All of this is freshly packed into one of the new "Take-away Cups".

A specially designed "Tea Tray" holds 16 full "Take-away Cups". On the back of the Tea Tray you'll find the "Collector's Checklist" featuring full colour illustrations of the entire Lunartik Tea range since 2008.

There is one "Tea Token" inside each "Take-away Cup". 19 "Tea Token" stickers can be collected and stuck onto a "Collectors Card". With a full card you'll be able to redeem the Super Rare Cuppa for free from Lunartik.com. These will be signed & numbered by Matt JOnes. Only 200 are available while stocks last.

The "Take-away Cup" lid has been designed to serve as a nifty Mini Tea display stand for you to show off your collection.